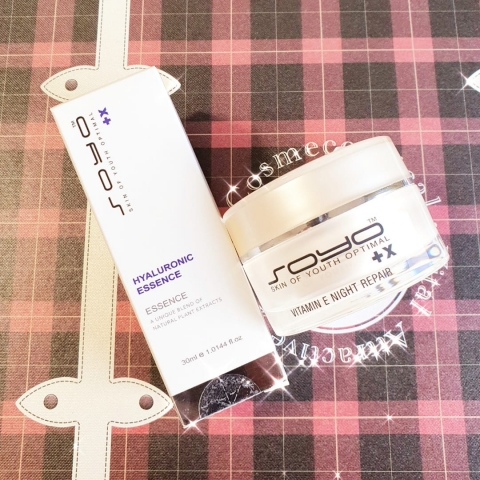 SOYO Hyaluronic Essence is a concentrated hyaluronic that are important to our skin. 
WHY HYALURONIC ACID IS IMPORTANT?
Hyaluronic acid, also known as HA, is a natural compound found in skin that has many important functions, including holding in moisture, providing cushioning, aiding in tissue repair, holding together the skin structural components collagen and elastin, and helping create a protective barrier against microorganisms.
SOYO Vitamin E Night Repair gives our skin a protective barrier to prevent from lost of moisture and collagen . Capsulated beads of Vitamin E in the light-weighted moisturizer cream blend in together to release the "Power Of Anti-Aging Antidote" 
WHY VITAMIN E Capsulated?
SOYO capsulated Vitamin E are using the "time release technology" and giving the most skin  benefits, such as reducing signs of aging, in fighting off free radicals, vitamin E helps protect the skin from damage. It helps strengthen skin barrier function. 
STAR BUY PROMOTION @ ONLY $150
for Hyaluronic Essence + Vitamin E Night Repair (usual price at $187) – what's app us for details @84313 668
Featured Treatment Products